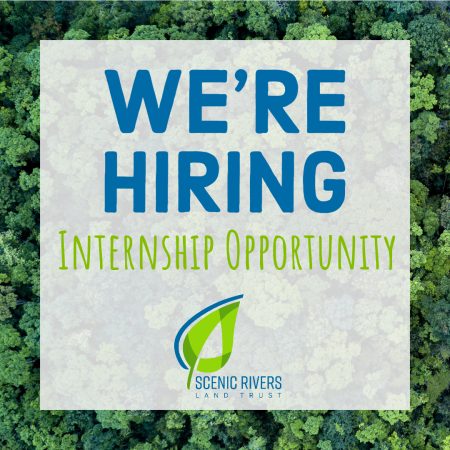 Internship Opening: Conservation Opportunity Researcher
Join our small but energetic team to protect our forests, farms, meadows, and wetlands!
About Scenic Rivers Land Trust: Founded in 1988, Scenic Rivers Land Trust is a private 501(c)3 nonprofit dedicated to protecting the forests, farms, meadows, shorelines, and wetlands of Anne Arundel County. To date, Scenic Rivers has acquired 78 conservation easements, covering over 3,700 acres.
Scenic Rivers Land Trust seeks a temporary, part-time Conservation Opportunity Researcher to assess the fundability (via grant programs) and vulnerability (via zoning, structures, and current protections) of our Top 100 Most Important Properties to conserve in Anne Arundel County. These 100 properties span approximately 7,000 acres of ecologically important land. Candidates must be familiar with GIS and be detail and process oriented. This position is office oriented, with a strong preference for presence in the physical office (located in Annapolis, MD), however this is a potentially hybrid-flexible position. This position reports to the executive director. The position is temporary and will last 515 hours (approximately 6 months).
Project Scope:
Our outreach and fundraising programs will be informed by your work. We seek to have detailed information regarding:
what conservation funding sources each property might qualify for,
how threatened is each property, and
if there are any existing protections in place that aren't shown in GIS (title research required).
The research of property funding source qualification, property threat level, and current property protections will require the heavy use of GIS software, data tracking in Excel, and title chain research. At the end of the 515 hours, the following deliverables will be expected:
An excel spreadsheet detailing the following for each Top 100 Property:

Likely eligibility for approximately 12 specified conservation funding programs.
Number of existing structures (residential, accessory).
Potential development level by existing zoning.

For the 30 most fundable and threatened properties:

In the same excel spreadsheet, notation of any existing protections (easements, restrictions).
Title work documents (plats, easement deeds) organized in digital file folders for each property.
Timeline and Time Commitment:
Timeline: Preferred start in January 2024 to be completed by June 2024. Flexible.
Estimated Researcher Time Commitment: Approximately 515 hours (~21 hours per week for 6 months).
Position Qualifications:
At least two years of college level courses
Competent skill level in GIS (ESRI ArcPro or ArcMap 10)

At least one college level class in GIS, preferably more

Competent skill level in Excel
Ability (or interest in learning) to discern plat notations
Ability (or interest in learning) to research title
Good work ethic and communications skills
Ability to read grant requirements and evaluate properties accordingly
Ability to compile data in a readable, usable format (likely in Excel)
Interest in land conservation and helping inform our next conservation projects
Compensation Benefits:
Hourly Compensation of $20 per hour (16-24+ hours per week);
To apply:
Please send cover letter and resume to Sarah Knebel, Executive Director, at Sarah@SRLT.org with "Application: Conservation Opportunity Researcher" in the subject line. Please include GIS experience, including GIS classes taken in your cover letter.
Opening announced: November 15, 2023
Application Deadline: December 10, 2023
Interviews: December 10, 2023 – Early January 2024
Start Date Range: January 2024 – February 2024