Healthy Forests Program: Invasive Plant Removal Workday at Bacon Ridge Natural Area (Vines, Shrubs, & Grasses)
May 13 @ 10:00 am

-

12:00 pm

Free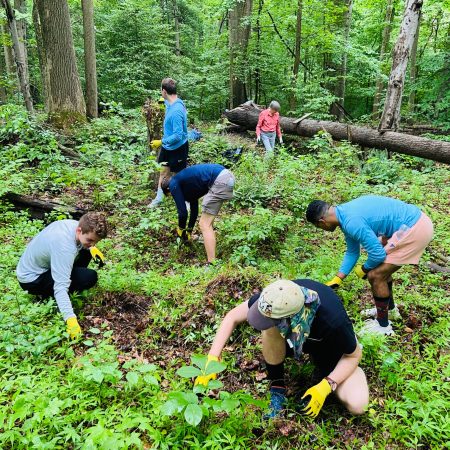 Protect the Health of YOUR Local Forest: Join us at Bacon Ridge Natural Area in Crownsville to spend a morning removing vines, shrubs, and grasses from along the trails!
Scenic Rivers' Healthy Forests Program engages community volunteers to help protect the long-term vitality of our largest conservation easement located within Bacon Ridge Natural Area.
Our May 2023 workday will focus on vines, shrubs, and grasses. These aggressive invaders threaten vegetation at all levels of the forest from the ground up into the forest canopy.
Event Details
Volunteers will be working on designated trail sections to remove specific invasive plant species.
Volunteers will be trained in how to identify and remove these plants.
Work gloves and tools can be provided by Scenic Rivers, though volunteers are welcome to bring their own gear.
To participate, volunteers must:
Be 16 years or older to attend without a supervising adult. Volunteers age 10 to 15 may attend with an accompanying adult(s) to supervise work;
Be able to hike up to 1 mile to get to designated work areas.
We must have at least 5 registered volunteers for the workday to proceed. So, be sure to invite some friends!
Controlling invasive species infestations is a big job and we'll be happy to have as much help as possible!
---
Spring 2023 Workdays
Scenic Rivers will host three public workdays in spring 2023:
Sunday, March 19, 2023 (10 am to noon) — English ivy
Saturday, May 13, 2023 (10 am to noon) — Vines, grasses, and shrubs
Saturday, May 20, 2023 (10 am to noon) — Vines, grasses, and shrubs