Walk for the Woods 2021
April 24, 2021 @ 7:00 am

-

3:00 pm

Free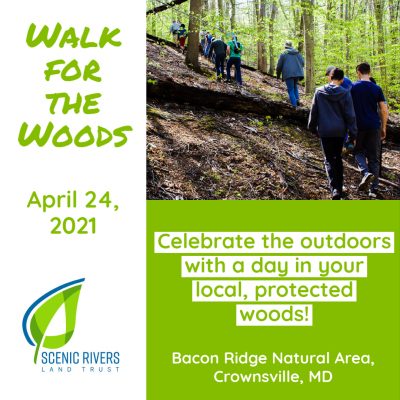 Click Here to Register for Timed Entry
Walk for the Woods is back!
Scenic Rivers Land Trust is pleased to announce that our annual "Walk for the Woods" will return in 2021.
The beloved outdoor community event is scheduled for Saturday, April 24, 2021, at Bacon Ridge Natural Area in Crownsville (rain date is April 25). Access to the event will be via the Farm Road entry.
Scenic Rivers will again partner with Anne Arundel County's Department of Recreation and Parks to offer a wonderful opportunity to walk, learn about, and explore this beautiful wilderness just minutes from downtown Annapolis.
Walk for the Woods is Scenic Rivers' annual celebration of families exploring the outdoors, the beautiful, permanently protected Bacon Ridge Natural Area, and the power of land protection to provide quality of life, wildlife habitat, and Chesapeake Bay and river health.
The event, held in late April of each year, is a day of guided hikes, including bird watching, amphibian searches and naturalist hikes, and educational programs. Attendees are also invited to explore the Bacon Ridge Natural Area's 1000+ acres of woodlands, wetlands, streams, and meadows on their own. It is always a beautiful, relaxing day in our local woods!
For the safety of participants and volunteers, the traditional event will be modified to conform with state and county COVID-19 public gathering requirements.
We anticipate a fantastic, safe day in our local, protected woods!
Bacon Ridge Natural Area's 1,000+ acres are graced with upland streams, lily-filled ponds, nesting birds, and spring wildflowers.
The event will require advance online registration and timed entry to control gathering size. Attendees will access the natural area via Farm Road (typically not open to the public).
Experts in wildlife, native plants, birds, and more will be on-site and available to attendees. Plus, self-guided hike options will be offered, complete with trail maps and educational signage posted along the trails. Hikes range from 1 to 4 miles, vary in degree of difficulty, and are on marked trails.
Schedule of Activities:
All Day – Colby Rucker Memorial Self-led Naturalist Hike (1-2 miles)
8:00 am – Bird Hike with Oliver Griffin (1-2 miles)
9:30 am – Bird Hike with Oliver Griffin (1-2 miles)
10:00 am – Say My Name Remembrance Ceremony with Janice Hayes-Williams
10:30 am – Woodland Hike with Mitch Keiler (3-4 miles)
11:00 am – Say My Name Remembrance Ceremony with Janice Hayes-Williams
11:00 am to 2:30 pm – Critter Discovery with Coastal Resources, Inc.
11:30 am – Reptile and Amphibian Search with Rosemary and Robert Frezza (2 miles)
12:00 pm – Woodland Hike with Dave Wallbeck (3-4 miles)
12:30 pm – Northern Trails Hike with Andrew Garte (2 miles)
A timed-entry ticket is required to register for the above activities. You will receive links to register for activities in your timed-entry ticket confirmation email.