Walk & Ride for the Woods
October 1, 2020 @ 8:00 am

-

October 31, 2020 @ 5:00 pm

Free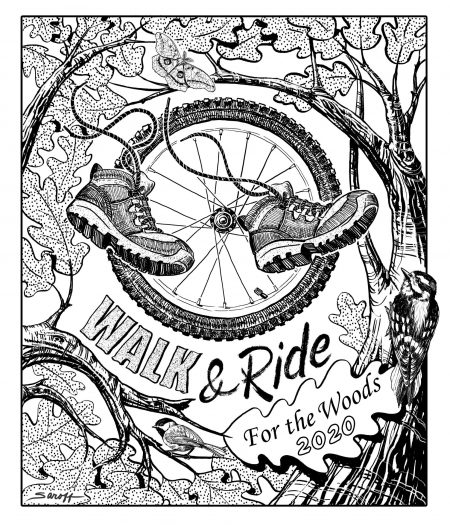 Scenic Rivers Land Trust is adapting and expanding our signature annual community event in order to adjust to the unusual circumstances of 2020.
This year we're celebrating Walk & Ride for the Woods!
This unique, reimagined community event and fundraiser is taking place throughout the month of October 2020 and is a combination of virtual and self-guided activities, with opportunities to fundraise via walking, running, and biking challenges.
Self-Guided Hikes
Honoring the spirit of our traditional Walk for the Woods event, which has always celebrated families enjoying and learning about the outdoors, Scenic Rivers staff have prepared a series of self-guided hikes within Bacon Ridge, similar in format to the successful self-guided history hike we offered in June.
Available hikes are as follows (download the trail guides by clicking on the green buttons):
From Bacon Ridge Road Trailhead
Birds of Bacon Ridge with Chris Eberly of Maryland Bird Conservation Partnership. On this hike, learn about various birds that call Bacon Ridge Natural Area home throughout the year. Chris discusses different habitats found within Bacon Ridge, shares the types of birds you might find in each habitat, and provides tips on what to listen and look for when you're out for a birding hike.
Aves de Bacon Ridge — En espanol
Tree Identification with Bud Reaves, Anne Arundel County Forester. On this hike,  learn about some of the many species of trees that can be found within Bacon Ridge Natural Area. Bud discusses several ways to identify trees when you're out for a hike, including assessing overall shape and size; looking at leaf shape and bark; examining twigs, leaf veins, and buds; and noting the appearance of flowers and fruit.
Identificacion de arboles — en espanol
From Hawkins Road Trailhead
Invasive Plant Species Identification with Liana Vitali, Naturalist with Jug Bay Wetlands Sanctuary. On this hike, learn about the types of invasive plants that can be found in Bacon Ridge Natural Area. Liana shares tips to help you identify invasive plants along the trails, interesting facts about each of the plants, and why they're a problem for the local environment.
Invasive Species Identification Hike
Identificacion de especies invasoras — en espanol
History of Bacon Ridge with Scenic Rivers Staff. On this hike, learn about how the land that now makes up Bacon Ridge Natural Area was used in the past and how it came to be what it is today. Sarah and Lindsay discuss how human activities have shaped the land and why protecting this green space at the heart of the county is so important.
Historia de Bacon Ridge — En espanol
These hikes are supported with digital trail guides, short videos, and temporary trail signs. Hikes range from 1/3 of a mile to 4 miles. Online materials and temporary trail signs will be available beginning October 1 with signs remaining up until the end of the month.
Walk & Ride Challenge
Scenic Rivers is challenging the Anne Arundel County community to get out and enjoy the natural and scenic spaces of our beautiful county—by walking, running, or biking—during the month of October.
Set a goal, tell your friends and family, and raise some funds to protect our community's special places!