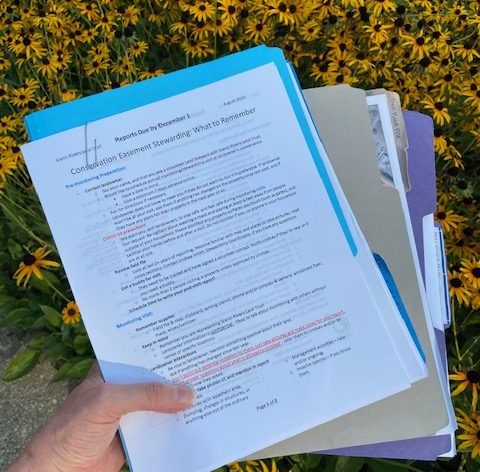 2020 Monitoring Season Kicks Off
Staff, team of volunteer land stewards to visit every Scenic Rivers conservation easement before end of year
Like everything else this year, Scenic Rivers' conservation easement monitoring season kicked off a bit differently. Earlier this month, volunteer stewards dropped by our office parking lot to pick up monitoring assignments and packets and a socially-distant chat with our Stewardship Coordinator, Lindsay Smith.
As a nationally accredited land trust, Scenic Rivers is required to visit every property under easement annually. From now through the end of the year, Lindsay or a volunteer steward will connect with landowners, schedule visits, walk each property, and prepare a monitoring report.
Of course, our goal is to keep everyone safe and healthy while conducting stewardship monitoring visits during the COVID-19 pandemic. While we encourage landowners to join us during our visit, it is not required, and we are happy to discuss land use changes, questions, or concerns via telephone prior to our visit. During visits, staff and volunteers are expected to maintain social distancing practices, wear masks when needed, and sanitize any surfaces they touch.
If you have questions about our conservation easement monitoring program or volunteer opportunities, please contact Stewardship Coordinator, Lindsay Smith, at lindsay@srlt.org.