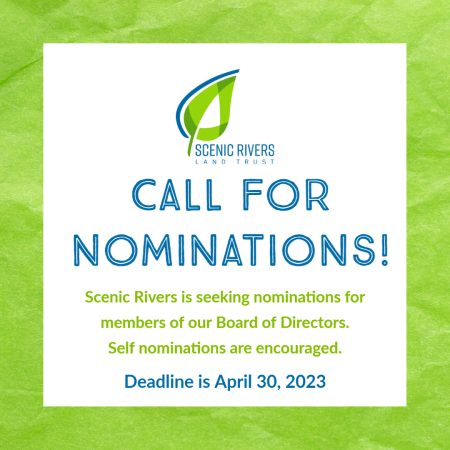 Call for Nominations for Scenic Rivers Board of Directors
WHO WE ARE
For over 30 years, Scenic Rivers Land Trust has worked with landowners and other partners to protect forests, farms, wetlands, and streams in Anne Arundel County. As the largest land trust in Anne Arundel County, we have acquired 77 conservation easements on 3,500+ acres of land. With our three staff members, we have grown our land conservation, land stewardship, and outreach programs over the years and are excited to be exploring new opportunities.
We have an amazing staff and a strong board of community leaders that is committed to environmental stewardship. We are looking for new board members to bring new perspective, energy, and skills to continue our growth.
WHO WE ARE LOOKING FOR
We are looking for individuals who want to help us build the next chapter of increased impact, creative projects, and long-term sustainability of Scenic Rivers Land Trust.
We think you'd be a good fit if you are a:
Mission driven individual with a passion for protecting land in all types of communities.
Bridge-builder who can forge strong alliances, introduce new partnerships, and expand our sphere of influence.
Person who demonstrates a commitment by making the time to be fully engaged during and between meetings and events, contributing financial resources, and showing up for the organization, other members, and the cause.
Supporter of conserved land as a critical element of creating thriving communities.
We're also looking for a professional with one or more of the following backgrounds:
Business acumen
Human resources
Public relations
Philanthropy
Financial planning, accounting, or investments
Software, technology, databases, or IT
Farming
Advocacy or lawmaking
WHAT WE WILL ASK OF YOU
An ideal Scenic Rivers Land Trust board member will:
Inform our strategic direction, over see our financial health, and ensure that best practices in management are followed.
Commit to a two-year term of representing the best interests of the organizations, its staff, partners, and volunteers.
Be willing to help make connections to secure funds and ready to make a personally significant financial contribution – we have a "Give or Get" commitment of $1,000 per board member.
Actively collaborate with current board members and cultivate new members.
Be willing to devote sufficient time to their duties and responsibilities, which include:

Attendance of 5-6 board meetings per year (5 virtual/1 in-person)
Attendance of one annual event (like Walk for the Woods)
Serve as an informed and compelling ambassador to expand Scenic Rivers' effectiveness, connection, and collaboration with individuals, the public, and other organizations.
We would love to hear from you. We are open to diversity in all its expressions. Our effectiveness is enhanced when equity and inclusiveness are practiced and protected throughout our organizational governance, culture, and staffing. Recruiting and retaining a diverse board is a priority at Scenic Rivers Land Trust.
Please visit this link to tell us about your experience and passion for this work. We'll be taking nominations until April 30th, 2023 (feel free to self-nominate). We'll acknowledge receipt of all submissions and reach out by May 9th to those who appear to be the best fit for advancement in the process. Offers will be extended by June 15th.
Ready to nominate yourself or someone else? Please visit this link and fill out the form!