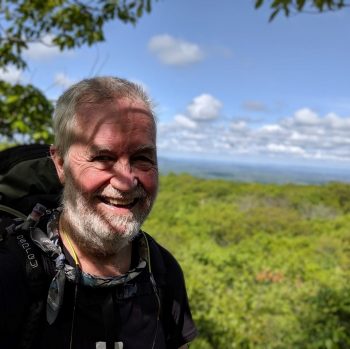 Congrats & Thank You to Dr. Cliff Andrew!
Former Scenic Rivers board president raises funds via two-week Appalachian Trail hike
Last month, former Scenic Rivers board president Dr. Cliff Andrew once again embarked on a two-week hike of the Appalachian Trail to raise funds for Scenic Rivers and the Appalachian Trail Conservancy. Over 14 years, Cliff (aka Doc Bear) has raised over $80,000 for Scenic Rivers Land Trust and Appalachian Trail Conservancy, through a combination of marathons, bike rides and backpacking trips, helping preserve over 3,000 acres of natural areas and contributing to the maintenance of the 2200 mile Appalachian Trail.
In the letter he sent this year in anticipation of his trip, Cliff says:
"Over the years as a physician I have developed an understanding of the importance of physical exercise in health, as a naturalist a sense of wonder in world around us, and as past president of a local land trust an appreciation of the need for preservation of our remaining wilderness areas. Each summer I take a couple of weeks off from doctoring to pursue challenging outdoor activities, immersing myself in the natural world, and raising awareness and funds for much needed conservation efforts.
Seven years ago I began a 10-year end-to-end NOBO section hike along the Appalachian Trail beginning atop Springer Mountain Georgia in 2012, hiking 2 weeks/year, reaching Stormville New York in 2018, leaving the trail because of Lyme disease. In May 2019 I returned making up 130 miles through Connecticut to Massachusetts, and now have 650 miles to go. This week, I plan to pick up where I left off in Tyringham MA, carrying food, water, and tent backpacking 225 miles (12.5 miles/day)."
Cliff's hike took place from September 6 to September 23, 2019, through Vermont and New Hampshire. You can check out photos and reports from his journey via Facebook.
Congrats on another successful journey and thank you again, Doc Bear!