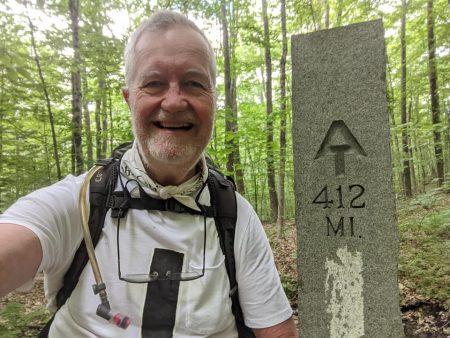 "Doc Bear" is Back on the Trail!
Dr. Cliff Andrew kicked off his annual Appalachian Trail hike to benefit Scenic Rivers and Appalachian Trail Conservancy on June 13
Eight  years ago, Dr. Cliff Andrew, a former Scenic Rivers board president, began a 10-year end-to-end section thru-hike along the Appalachian Trail to raise awareness and funds for much needed conservation efforts. Scenic Rivers and the Appalachian Trail Conservancy have been the beneficiaries of these efforts. Dr. Andrew, or "Doc Bear" as he's known on the trail, began his journey in 2012 atop Springer Mountain, Georgia. Since then, he has hiked two weeks per year, reaching Lyme, New Hampshire, last year.
With only 425 miles to go, this year's leg includes two of the toughest sections of the Appalachian Trail. He will pick up where he left off last year, having been in isolation from SARS-CoVID-19 in recent months, carrying food, water, and a one-man tent. He plans to solo backpack 205 miles (10.5 miles per day) starting June 13 in Lyme, New Hampshire, and ending July 1 in Rangeley, Maine.
In the past, Doc Bear has painted an AT White Blaze (that marks every 50 feet or so on the trail to guide the way) on a different color AT-shirt: red, orange, yellow, green, blue, purple, black, gray… but this year is different: White shirt for the hardest part the trail—New Hampshire's White Mountains—and Black blaze for "Black Lives Matter!"
Over 17 years via five marathons, four bike rides, and eight backpacking trips, Doc Bear has raised over $85,000 for Scenic Rivers and Appalachian Trail Conservancy, helping preserve over 3,000 acres of natural areas and contributing to the maintenance of the 2200 mile rustic footpath that stretches from Georgia to Maine along America's eastern spine.
We are so thankful for Doc Bear's support over the years and we wish him the best of luck on the trail!
You can follow Doc Bear on his journey via his Facebook page.