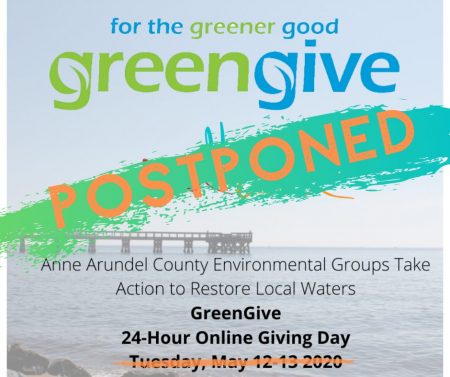 Earth Week with Scenic Rivers and the GreenGive Partners
Happy Earth Month! As many of you know, Scenic Rivers is one of 11 local environmental nonprofits that collaborate each year to raise funds and visibility of local environmental issues.
The GreenGive, a one-day online giving event, scheduled for May 12-13, has been postponed as our community collectively focuses on the COVID-19 crisis and response. Because this situation is still developing, we have not rescheduled, but we hope to celebrate with you for the Greener Good in the coming months!
The good news is… EARTH DAY IS NOT CANCELED!
Every April since 1970, people all over the world have celebrated the wonders of our planet and vowed to take action to protect our environment. Since all of our in-person community Earth Day celebrations have been canceled, the GreenGive organizations, together with additional partners, are proud to bring you:
Anne Arundel Celebrates Earth Day
From April 18-30, join dozens of online events, videos or activities to celebrate Earth Day in your own home or neighborhood! Visit Anne Arundel Celebrates Earth Day to view a complete list of Earth Day activities. There is something for everyone, from an electric car show to nature art activities for kids and adults!
This Earth Month, we hope you will join your local, Anne Arundel County, environmental organizations to:
LEARN… about local environmental issues and discover cool things about the great outdoors
DO… pick an action you can take, or an activity you can do in your own home or yard to celebrate our planet
CONNECT… join an online forum or event to discuss an environmental issue or topic
Like GreenGive on Facebook and visit us at Anne Arundel Celebrates Earth Day to learn more!