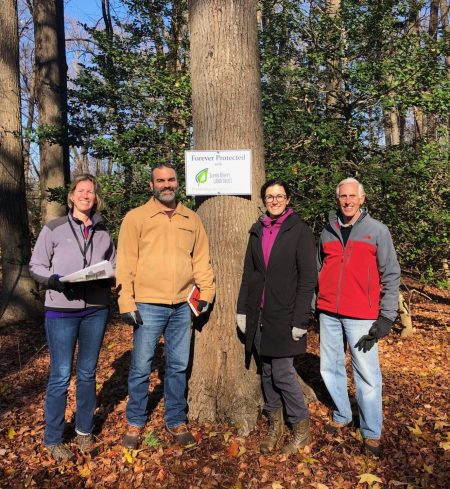 Monitoring Season Coming to a Close
68 Easements Visited Before the End of the Year
Our new stewardship coordinator, Lindsay Smith, along with a team of volunteer land stewards, has been very busy wrapping up our remaining stewardship visits before the end of the year. Most monitoring visits happen in the fall or toward the end of the year when leaves are off trees and visibility is best.
Scenic Rivers conducts annual monitoring visits and reporting for each of our 68 conservation easements. This is our opportunity to track what is happening on the land, ensure all activities conform to the requirements of the easement and identify potential issues before they advance. These site visits and accompanying reports are a critical component of our commitment to the properties under easement with Scenic Rivers and ensure that we maintain regular, consistent communication with landowners.
Two recent visits took us to vastly different parts of the county to meet with landowners who have at least two things in common: love for the land and a desire to protect our natural resources.
First, we met with members of the Bay Ridge Civic Association to walk series of conservation easements on their land throughout the Bay Ridge community in Annapolis. It was especially exciting to see the results of their "Adopt-A-Plot" program—a volunteer lead effort to control invasive vines and ensure the health of their forest.
The next day had us heading to South County to meet with landowner Hamilton Chaney to walk his 400+ acre property along the shores of Herring Bay. Chaney's long family history in the area has inspired him to do what he can to conserve the natural resources of the region and protect the rural character that makes it so special.
We are thankful to work with committed, conservation-minded landowners like these who are meticulous in the stewardship of their land.
Thank you to Lindsay, our landowners, our volunteer stewards, and others who have worked to make this stewardship season—our first since receiving national accreditation—a success!