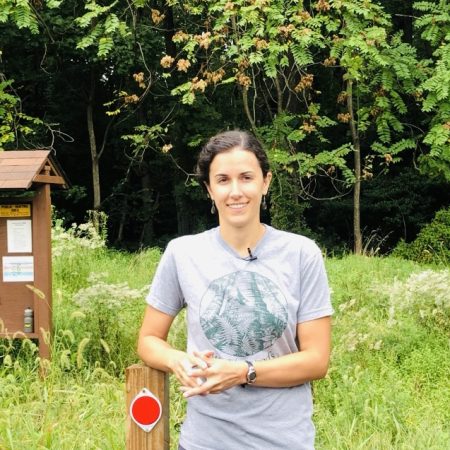 Scenic Rivers' Executive Director Named 2023 Aileen Hughes Award Winner
Award provides a grant of $5,000 to Scenic Rivers in her honor
Scenic Rivers' executive director, Sarah Knebel, was recently named the 2023 Aileen Hughes Award winner.
The Aileen Hughes Grant is awarded annually to an individual representing a Maryland land trust who has demonstrated outstanding leadership in land conservation. The award is part of Maryland Department of Natural Resources, Maryland Environmental Trust, and Forever Maryland's Keep Maryland Beautiful program.
This year's award recognizes Sarah's outstanding accomplishments, expertise, and leadership at Scenic Rivers Land Trust.
Sarah joined Scenic Rivers in 2015 and became the executive director in the fall of 2019. Prior to becoming executive director, Sarah led Scenic Rivers through the national accreditation process, awarded in August 2019 by the Land Trust Alliances' Land Trust Accreditation Commission.
Shortly after becoming executive director, she was tasked with navigating the organization through the early days of the COVID-19 pandemic. Under her leadership, Scenic Rivers continued to grow and thrive despite difficult conditions.
In 2022, Sarah worked to reassign and accept five existing conservation easements totaling 224 acres, from the Pasadena-based North County Land Trust (NCLT) as they prepared to cease operations at the end of 2022. In the process, Scenic Rivers expanded its service area to cover the watersheds of Bodkin Creek and the Patapsco River within Anne Arundel County.
Scenic Rivers now holds 77 conservation easements across the county, totaling more than 3,500 acres.
Under Sarah's leadership, Scenic Rivers has expanded its staff and grown the capacity of the land trust.
Sarah's attributes as a leader, partner, innovator and high-level performer exemplify the spirit of the Aileen Hughes Award. Congrats, Sarah!