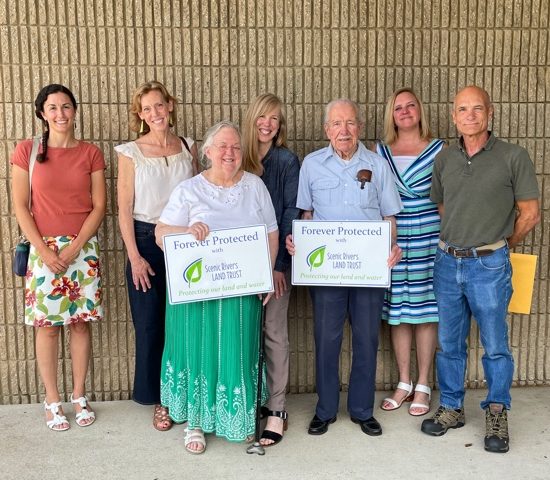 Scenic Rivers Land Trust Protects 24 Acres in Arnold
Two families donate conservation easement to forever protect forest, wetlands
Arnold, Md. (October 26, 2021) — Scenic Rivers Land Trust has permanently protected 24 acres of forest and wetlands in the Severn River watershed. Two Arnold families partnered to donate a conservation easement on their adjoining properties to the county-based land trust, protecting vital wildlife habitat from development forever.
The recently conserved property is mostly located within the Chesapeake Bay Critical Area. In addition to forest and wetlands, the property includes a pond and stream. The area is also known habitat for Forest Interior Dwelling Species, such as Pileated Woodpeckers.
Elizabeth Rucker and her late husband Colby Rucker purchased their property when their Arnold neighborhood was first being built with the intent of preserving it from development. Their neighbors, Arthur and Anita Murray, also purchased their adjoining acres of forest for the same reason. After caring for and enjoying their land for many years, the two families partnered to donate a conservation easement on the land to ensure that it remains protected forever. The donated conservation easement extinguishes the development rights on the properties and is designated as a charitable gift by the Internal Revenue Service.
"It has been a pleasure to work with these conservation-minded neighbors to protect land that has been in their families for more than 50 years. They love their forest, and it really shows," said Scenic Rivers Land Trust Executive Director Sarah Knebel. "Donated conservation easements and all of the environmental and health benefits that can be tied to them are truly a gift to our entire community. We need more private landowners to consider conserving their land."
About Scenic Rivers Land Trust
A nationally accredited land trust, Scenic Rivers is a private nonprofit dedicated to protecting forests, wetlands, farmlands, and other open spaces in Anne Arundel County. Since 1988, Scenic Rivers has used land conservation easements to protect special places and to facilitate tax incentives for property owners. To date, Scenic Rivers holds 71 conservation easements across the county, totaling over 3,200 acres. To learn about Scenic Rivers' conservation programs, visit www.srlt.org. 
###