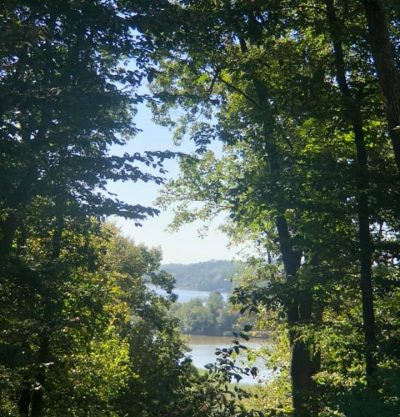 Stewardship season is in full swing!
Annual visits ensure open communication, easement compliance
As fall arrives, our annual stewardship visits are well underway. Each year we work with a team of volunteer stewards to visit and report on the 68 conservation easements held by Scenic Rivers Land Trust. (And this year, our brand new Stewardship Coordinator, Lindsay Smith, will be making visits as well!) Annual stewardship visits are both a best practice and a requirement to maintain our national accreditation. The goal of these visits is to ensure that the terms of the conservation easement are carried out and to maintain ongoing, productive, professional conversations with landowners. 
On a recent stewardship visit, we had the opportunity to explore Hidden View Farm in Crownsville with property owner Richard Bradshaw. Hidden View Farm is a popular wedding and special event venue, complete with a manor house and numerous formal gardens all surrounded by 60+ acres of protected forest. Bradshaw and his late husband, Dr. Michael Pistole, purchased the first portion of the property in 1991 after a developer's plans to build a neighborhood on the land fell through. When the couple originally began planning to move out of Washington, D.C., they were looking for a house with "maybe 7 acres or enough for a garden." But the property in Crownsville was hard to resist—the couple were highly motivated to protect the land situated at the headwaters of the South River from potential development.  
Improving the land—portions of it had been a dumping ground for old tires, paint, etc.—and building the manor house took several years. In 2009, the couple took formal steps to protect their land forever by placing a conservation easement with Scenic Rivers Land Trust and Maryland Environmental Trust on the 62 acres of forest surrounding their home and gardens.  
When asked what he loves about his conserved property, Bradshaw said, "The acres of conserved forest are like a garden that Mother Nature tends. We couldn't do any better." We couldn't agree more!