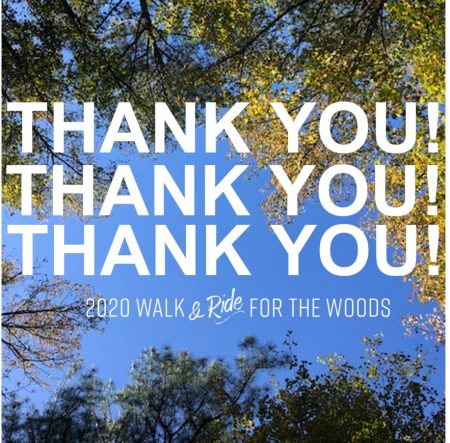 Thank You for Making Walk & Ride for the Woods a Success!
October virtual hiking and biking event raised over $34,000 for land protection in Anne Arundel County
As we head into Thanksgiving and the holiday season, we are grateful to have the opportunity to say THANK YOU yet again to our dedicated community of land conservation supporters! Thanks to you, Scenic Rivers' month-long Walk & Ride for the Woods virtual event was a great success.
Collectively through sponsorships, individual fundraisers, donors, and event t-shirt sales, we raised $34,162 for land conservation efforts in Anne Arundel County. This is incredible given what a difficult year this has been for nonprofit fundraising events.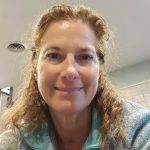 On the top of our list is a very special thank you to our top fundraiser, Debi McKibben of Simply Stronger Yoga, Fitness & Massage, who raised $11,686 and cycled 1,100 miles on the roads of Anne Arundel County throughout the months of September and October! Her enthusiasm and passion for protecting our land and water was at the heart of this event.
Way to go, Debi! We can't thank you enough!
In addition, hundreds of hikers hit the trails at Bacon Ridge Natural Area to enjoy the free self-guided hikes created by Scenic Rivers' staff and our fantastic volunteer hike leaders: Chris Eberly, Executive Director, Maryland Bird Conservation Partnership; Bud Reaves, Anne Arundel County Forester; and Liana Vitali, Naturalist, Jug Bay Wetlands Sanctuary. We are so appreciative that these hike leaders donated their time and expertise. We are ecstatic and thankful that so many hikers joined us on the trails to learn about invasive plant species, tree identification, birds, and the history of Bacon Ridge.
And, of course, we are thankful to our many generous local sponsors who stuck by us as we sorted out how to safely host an event in this difficult year. Their sponsorship and steadfast support have been essential to keeping us going. Lead sponsors include the Paul & Maxine Frohring Foundation, The Brick Companies, and Friend Commercial Real Estate.
Thank you again to everyone who made Walk & Ride for the Woods a success!
Thank You to the 2020 Walk & Ride for the Woods Sponsors!