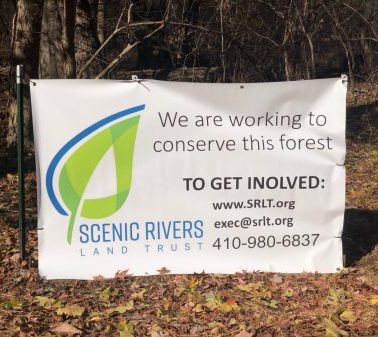 Urgent Conservation Opportunity: Garman Sawmill Property
Conserving 132-acre forested property is Scenic Rivers' highest priority
As many county residents have noticed, the Garman Sawmill Property in Crownsville is for sale. The conservation of this 132-acre property, situated among four conservation easements, is Scenic Rivers' highest priority. The property is currently zoned RLD and could potentially allow the construction of 32 homes.
Mostly comprised of acres of lush, mature forest, this stunning property is located along River Road—one of our county's scenic byways—with approximately 5 to 10 acres dedicated to one of the last remaining local sawmills. Situated within an Anne Arundel County Greenway and DNR Green Infrastructure, it is also very close or adjacent to four other Scenic Rivers conservation easements that jointly total more than 220 acres of connected habitat in the Severn River watershed.
Fortunately, the conservation-minded landowners would prefer to see it conserved rather than developed. We are working to find funding to conserve the property's natural resources and significantly reduce it's development potential.  
This property represents a tremendous opportunity for the County's conservation initiatives. It is a rare chance to conserve over 100 acres of vulnerable mature forests and secure the integrity of a significant portion of Anne Arundel County Greenway.
We will post updates as we make progress on this rare, time-sensitive opportunity. In the meantime, please consider a donation to our Opportunity Fund, established for circumstances just like these when it is necessary to act quickly to save the open spaces we all love.