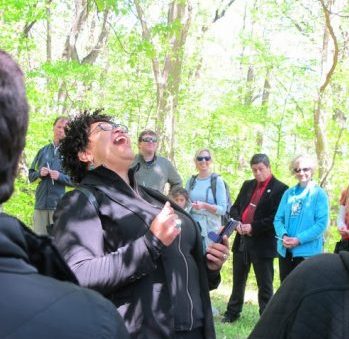 Walk for the Woods Highlight: Say My Name Ceremony
As the annual Walk for the Woods approaches, we're showcasing many of the traditions and activities you can look forward to at this year's event.
In celebration of Black History Month, we're highlighting the Say My Name Ceremony held on the grounds of the Crownsville State Hospital Cemetery, which is adjacent to the Bacon Ridge Natural Area. This moving ceremony, held annually in conjunction with Scenic Rivers' Walk for the Woods, pays tribute to the scores of African-Americans who lived at the hospital and are buried in the cemetery with only numbers to mark their graves.
During the ceremony, Annapolis-based historian and writer Janice Hayes-Williams speaks the names of the deceased aloud and spreads rose petals in remembrance and acknowledgment as singer Scottie Preston leads attendees in song. It is a beautiful way to acknowledge and address a dark history.
The 2020 Say My Name Ceremony will be held at 10 am on Saturday, April 25, 2020, during the 15th Walk for the Woods at the Bacon Ridge Natural Area. Learn more about the Walk for the Woods here and stay up-to-date on event details via Facebook, Twitter, and Instagram.