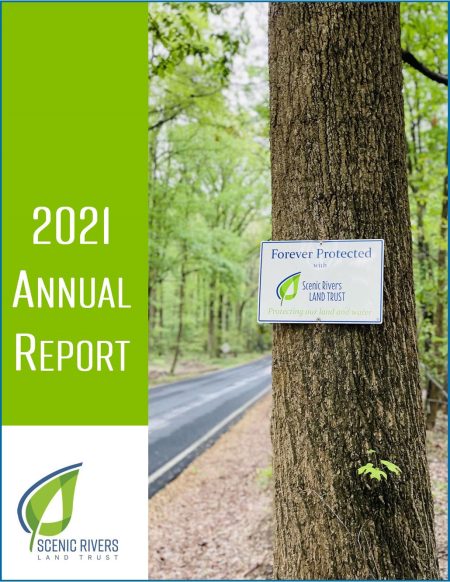 2021 Annual Report Now Available Online
Scenic Rivers' Annual Report reflects on 2021
It's always a slightly dizzying exercise to look back on an entire year. So much happens! The world changed. And changed again, and again. Each of us did the same. Scenic Rivers changed too, evolving to tackle the land
conservation challenges of today and of the future.
Our Conservation Champions Circle was created and launched last year to ensure we have the financial support to stay stable year over year. Knowing our partners and supporters have our back allows us to stay focused on
advancing our mission and making an impact.
Our Invasive Plant Control Program was implemented last year after plans were laid in 2020. Invasive species are a major threat to our natural world, one we need to find a way to confront. We have 3,200 acres under easement that are vulnerable to invasion and the biodiversity crashes that follow these prolific and damaging plants.
Our third change of the year: we completed a rigorous process to identify our 100 highest-priority properties for conservation—the Top 100, as I call them. This will focus how we allocate our outreach and land conservation resources (time and money) so that we can make the biggest impact. We are already forging the partnerships and support for these critical projects.
Our goal to conserve as much of the remaining natural and open spaces in central and southern Anne Arundel County as possible is what gets us out of bed every morning (and sometimes keeps us awake at night!). We're proud that we were able to permanently protect 24 acres of beautiful forest and wetland with two Arnold families last summer.
Thank you for your continued support and partnership as we work together to protect the natural and scenic lands we all love.
Your support keeps us going.
The pages of this annual report reflect on last year's successes. We hope you'll join us in looking back on 2021 with pride.
Click here to check it out and see what you helped to accomplish.